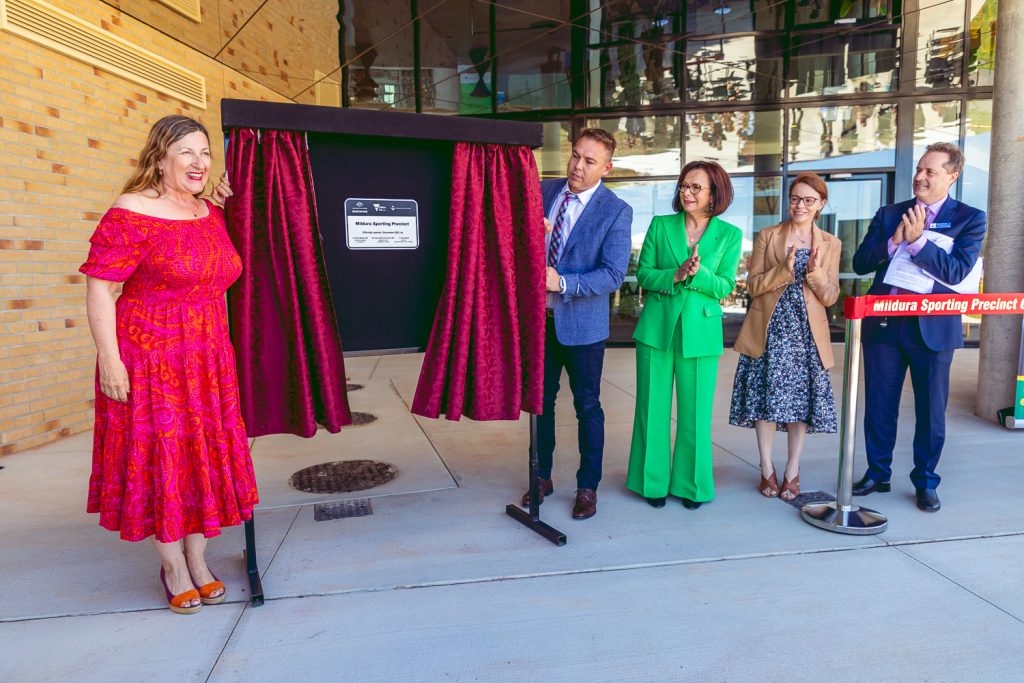 Mildura's largest and most eagerly awaited community sporting precinct was officially opened today by representatives of the Australian and Victorian Governments.
Mildura Mayor Liam Wood said the milestone moment celebrates the completion of the first stage of the Mildura Sporting Precinct, and the successful partnership between Council and its funding partners.
Together, the Australian and Victorian Governments contributed more than $20 million to make Stage 1 of the precinct a reality, delivering:
A two-storey stadium. The ground floor comprises six sports courts, change rooms, foyer, reception, administration offices, public amenities, storage, spectator seating and a café/kiosk. The second floor houses function rooms, social/club rooms, public amenities and storage.
Premier sporting oval with a cricket turf wicket and competition-standard lighting towers.
Standalone pavilion featuring coach and timekeeper's box, change rooms for umpires and players, public amenity, storage for outdoor sports and a canteen/kiosk.
Sealed car parking, pathways and landscaping.
This was made possible through the following significant funding contributions.
Australian Government – $17.5 million
Building Better Regions Fund Round 2 : $10 million toward Stage 1
Building Better Regions Fund Round 3: $7.5 million toward Stage 2 Victorian Government – $3.75 million
Better Indoor Stadiums Fund : $3 million
Local Sports Infrastructure Fund : $750,000 toward delivery of integrated projects that are part of both Stages 1 and 2 of the precinct including:

Outdoor netball courts with competition lighting to be delivered concurrently with Stage 2  (partnering with Mildura Netball Association, South Mildura Sporting Club and Sunraysia Football Netball League)
Multi-sport Infrastructure Grant upgrade partnering with Cricket Australia/Cricket Victoria for delivery of practice nets (to be delivered as part of Stage 2) and lighting upgrade to 500 lux for premier oval.
"It goes without saying that this massively successful project simply wouldn't have happened without the unwavering support of the Australian Government, the Victorian Government and our local representatives at Federal and State level," Cr Wood said.
Federal Member for Mallee Dr Anne Webster highlighted the important role the Precinct would play in the community, and the commitment from the Liberal and National government.
"This is an exciting day indeed. I'm delighted to see this project come to completion. This precinct is tangible and measurable evidence of the commitment the Liberal and National government has in the Sunraysia community," Dr Webster said.
"The Mildura Sports Precinct will be a place where memories are made and plenty of good and healthy competition for kids, teens and families.
"Quality recreational facilities are a signpost of a great community and I'm proud the Coalition have been able to deliver $17.5 million towards it."
Victorian Parliamentary Secretary for Sport Danielle Green represented the Victorian Government as part of the official opening of the Mildura Sporting Precinct.
"All Victorians deserve the best sporting facilities no matter where they live, which is why we're investing in major infrastructure projects across the state so that more people can get out and get active," Parliamentary Secretary Green said.
Cr Wood said that just months after completion the Mildura Sporting Precinct was already delivering on its objectives to bring large-scale events to the region, increase local participation in sport and improve the economic and social well-being of the local community.
"We've already secured a partnership with Women's National Basketball League team the Bendigo Spirit, which will see a regular season fixture at the precinct in February next year, televised to an international audience via sports streaming service Kayo," he said.
"The eagerly awaited start of local competition at the precinct has already resulted in increased participating in sport, with reports of major growth in some sports after just their first games, which is great to see and provides a whole host of social and health benefits."
The Mildura Sporting Precinct is part of Council's Mildura Future Ready advocacy and funding strategy, created to attract major investment for infrastructure projects that drive jobs and growth in our region.
ENDS