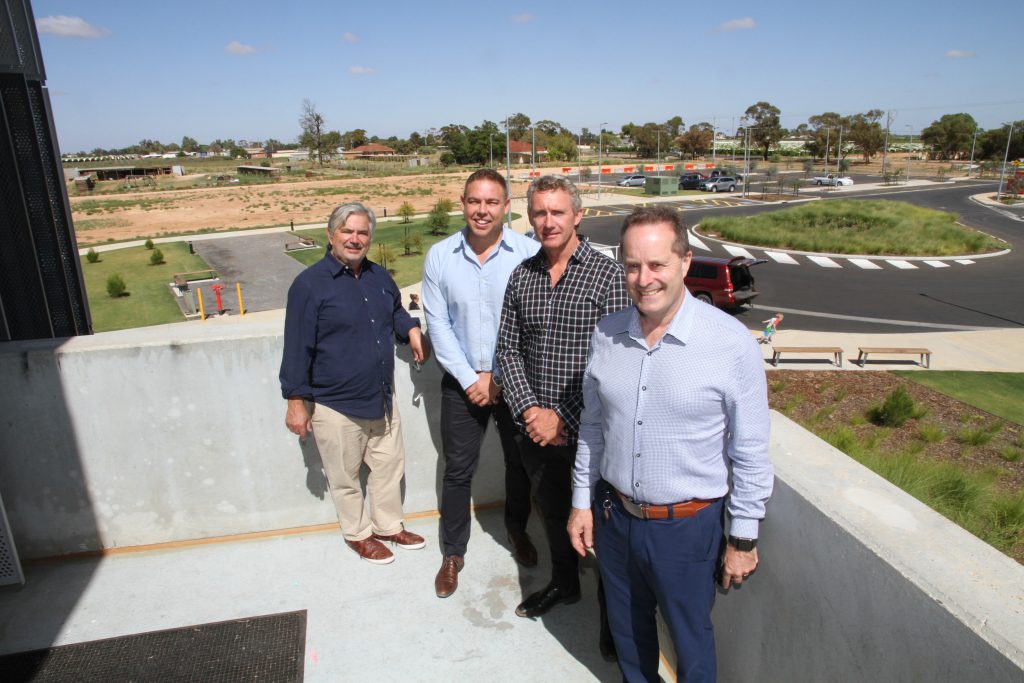 Mildura Rural City Councillors have given the green light for construction to start on two of the most eagerly awaited major projects in our region – the Powerhouse Precinct and Stage 2 of the Mildura Sporting Precinct (MSP).
Councillors approved tenders for both projects in recent weeks, opening the way for about $20 million in works to get underway at both sites in coming months, representing a major boost to the region's construction sector through use of local contractors.
Mildura-based construction company King Construction Group was this month awarded the tender to build the second stage of the MSP, along with construction of outdoor netball and lighting.
It followed a decision in late January by Councillors to award the Powerhouse Precinct tender to Indigenous construction company Rork Projects Pty Ltd.
Mildura Mayor Liam Wood said endorsement of both tenders paved the way for exciting progress on two major projects which have been eagerly anticipated by the community.
"The Powerhouse Precinct and the second stage of the Mildura Sporting Precinct are two of our highest profile projects, and for good reason, as they promise to deliver so many benefits to our community," Cr Wood said.
"The Powerhouse Precinct is the next exciting stage of the transformative riverfront development that has attracted tens of thousands of visitors to our region each year, promising to further increase our region's attraction for visitors and the economic benefits that will flow from that.
"Importantly, it will also further activate our riverfront for the most important people in our region – our local community.
"The Mildura Sporting Precinct meanwhile is already delivering on its potential, attracting major events, increasing growth in indoor sports and providing more opportunities for our community to get active.
"The second stage of the precinct will build on this success by opening the way for even more sports, including squash and outdoor netball, as well as a new multi-use oval under lights."
Councillor for Infrastructure and Assets Glenn Milne said endorsement of both tenders would provide a major boost for the region throughout the construction phase.
"In terms of the Mildura Sporting Precinct, King Construction Group is a wholly owned and operated local business, with a track record of working with local trades that boost our local economy," Cr Milne said.
"Stage one saw over 60% of trade hours undertaken by local contractors, so there will be hundreds, if not thousands of hours of employment required to complete the second stage of the precinct, which will go to local trades, and be spent in our local area.
"I'd also like to congratulate Rork Projects on their successful tender for the Powerhouse Precinct.
"Rork Projects have demonstrated a commitment to sourcing local contractors, which again means more jobs, more money injected into our local economy throughout construction of the precinct. Rork Projects have also committed to employing two local Indigenous workers during the project."
Comments from Rork Projects
"The Powerhouse redevelopment is a project of importance to our Victorian team. It will allow us to connect with the community, provide job opportunities for Indigenous and non-Indigenous people throughout the region and deliver a legacy for the Mildura Rural City Council."
Steven Raymond – Victorian General Manager
"Rork Projects is truly grateful to be selected for this community development, and thrilled to partner with Mildura Rural City Council to deliver this landmark redevelopment of the iconic Powerhouse. Regional communities are the driving force for change throughout Australia, which is why we are so proud to be part of this transformational project."
Scott Kennett – Regional Construction Manager
Comments from King Construction Group
"As Managing Director of King Construction Group I'm proud to be associated with the second stage of the Mildura Sporting Precinct.
This is an exciting project for a local builder to be associated with, particularly given the major role it will play with so many local sporting groups, as well as our community's future."
Mr King said the second stage of the Mildura Sporting Precinct will provide additional stimulus for the local construction industry.
"I expect we'll have up to 50 local subcontractors working on that site at any one time, and a lot of our sub-contractors have been with us for multiple years.
"Taking on long-term projects like this provides additional confidence for our subcontractors, which helps in terms of employing more apprentices and trainees. I know in our case, because most of our projects are long-term, we directly employ new apprentices every 12 months.Taking on long-term projects like this provides additional confidence for our subcontractors, which helps in terms of employing more apprentices and trainees.
"In our case, because most of our projects are long-term, we directly employ new apprentices every 12 months."
Dale King – Managing Director
Quotes from Mildura Squash
"We are very much looking forward to a new era in Squash for Mildura and the region once the facilities are built at the Mildura Sporting Precinct.
"Having been involved with the process for 15 years, once given the opportunity to promote and grow again in new state-level facilities with singles and doubles court capability, access and participation will definitely rise.
"On a wider scope, the interest being shown to sport and recreation in our region from Council and community leaders is very welcome. Sport, recreation and being active in our region is always one of the best ways to a healthier and happy community as a whole, for all walks of life. "
Paul Takacs – President of Mildura Squash  
SCOPE OF PROJECTS
Powerhouse Precinct
Powerhouse flexible events space
Powerhouse front of house – tourism offering, mezzanine and visitor inspiration space, including interactive touch screens
Boiler house shade structure
Public amenities
External food and beverage building
Events kitchen
Basement multipurpose space
Hard and soft landscaping
Mildura Sporting Precinct – Stage 2
Second multi-use oval with 150lux LED lighting
Change rooms
Sports administration hub
Four indoor squash courts
Four outdoor netball courts
Four outdoor beach volleyball courts
Indoor seating
External seating for Ovals 1 and 2
External Shade improvements
Blinds for Court Hall One
Electronic Scoreboard for Oval 1
Cricket practice nets and wickets
Additional sealed and overflow car parking
Parking access around Oval 1
Landscaping improvements
Perimeter and ticket fencing
PROJECT FUNDING BREAKDOWN
Powerhouse Precinct
$9.156 million
Victorian Government
Sustainability Victoria – $196,000
Building Works package – $5,000,000
Regional Infrastructure Fund – $500,000
Changing Places – $110,000
Outdoor Activation Fund $100,000
Australian Government
Murray Darling Basin Economic Program – $1,000,000
Local Roads and Infrastructure Program – $1,750,000
Mildura Rural City Council – $500,000
Mildura Sporting Precinct – Stage 2
$11.914 million
Victorian Government – $10,000,000
AFL Facilities Program – $250,000
Cricket Australia/Cricket Victoria and Local Sports Infrastructure Funding to deliver remaining cricket scope – $365,490
Sunraysia Volleyball Incorporated – $45,000
Mildura Rural City Council – $1,253,438
Mildura Sporting Precinct – Outdoor netball courts and lighting
$1.110 million
Victorian Government Local Sports Infrastructure Fund – $500,000
Community Contribution – $365,000
(Mildura Netball Association, South Mildura Sporting Club, Sunraysia Football League)
Mildura Rural City Council – $245,763
ENDS